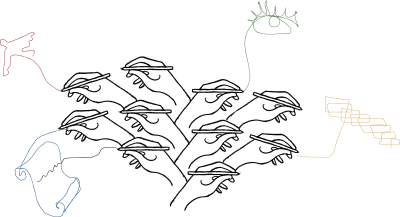 The Politics of Attention II:
Self and Other in the Shared World
A two day symposium organized by D. Graham Burnett and Stevie Knauss.
Building on the work of "The Politics of Attention: Art, Time, Technology, Action," held in August of 2019 at Mildred's Lane (itself a follow-up to the "Practices of Attention Symposium" at the 2018 São Paulo Biennial), a small group of invited participants convened on August 14th and 15th of 2020 for a set of discussions on the history, ethics, and techno-politics of our current attentional regime.
Attention lies at the nexus of perception and action, aesthetics and ethics, wealth and power. Whose eyes (and minds) are where? And for how long? These are central questions driving the evolution of politics, capitalism, and personhood in the twenty-first century. New technologies and new practices are reshaping our understanding of the attentional subject—with consequences for learning, subjectivity, and social life. In what ways can the conditions of collective existence be maintained and improved as we negotiate a radically transformed world of solicitation? What transformative potentials lie nascent in aesthetic practices, artistic interventions, and the history of spiritual exercises? Drawing on the quarantine "Gatherings" of the "Friends of Attention," and extending these inquiries through a series of readings, seminar discussions, and experiments in artistic research, this workshop aimed to advance understanding of a difficult and important domain.
Working Groups
All core participants in "The Politics of Attention II" are part of
preparatory Working Groups; follow up with individual organizers
for more information.
Political Action: Reclaiming the Attention Commons
Daphne Barile - contact
daphne [ at ] countermail.com
Attention and Consensus
Sonali Chakravarti - contact
sonali.chakravarti [ at ] gmail.com
Jac Mullen - contact
jacmullen [ at ] gmail.com
Sustainable Political Attention: Tactics and Practices
Jeff Dolven - contact
jdolven [ at ] gmail.com
Khaled Malas - contact
khaledmalas [ at ] gmail.com
Spaces & Movements: Sanctuaries/Attentional-Militias
Helen Singh-Miller - contact
hsingh-miller [ at ] massart.edu
Len Nalencz - contact
lvnalencz [ at ] protonmail.com
Attention as Anti-Capitalist Action
Kristin Lawler - contact
kristinlawler [ at ] mac.com
"Burnout" and the Politics of Attention
D. Graham Burnett - contact
davidgrahamburnett [ at ] gmail.com
Attention and Platforms for Direct Political Action
Carlos Montemayor - contact
carlosmromo [ at ] gmail.com
Trapping Attention and Attentional Traps
Adam Jasper - contact
adamjasper [ at ] gmail.com